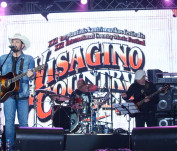 Let's meet at VISAGINO COUNTRY festival on August 19-21, 2016!
2016.05.04
In Visagino country festival, which is held in amazing nature, for two days and nights you will hear Country music that is full of energy, enjoy friendly atmosphere and various entertainments, meet your old friends and, like "Country music father" Virgis Stakėnas says "… Country summer ends with Country music…". So all of you, who can't imagine their summer without good, live Country music must be there!
After two crazy days we will invite you to Visaginas church, were we will listen to Country chants, pray for all of us, for festival and we will promise for each other to meet here next year…
This year you will hear "Flame & Rolltones" form Latvia, "Whiskey River" from Poland, "Neshville" from Austria, Kevin Buckley and "The yee-Haw Band" from France, Julian Summers from Canada, Carlton Moody from USA, "Country Hell" from Russia, russian band "Kukurūza" leader Georgij Palmov and soloist Svetlana Šebeko, best russian Mandolin player Olga Jegorova with Roman Palmov, as known as duet "RO" and  band "Fira" from Ukraina which will appear in our festival for the first time.
Lithuania will be represented by Aleksandras Belkinas and Virgis Stakėnas, who will play something new and special, as allways… Will there be someone else? Of course! Follow our festival news in website www.visaginocountry.lt and you will find out! See you in "Visagino country 2016"!