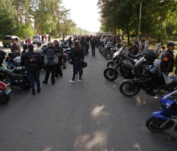 Let's meet at VISAGINO COUNTRY festival!
2020.07.21
Traditionally, every year, in the middle of August, in Visaginas – the youngest city of Lithuania, which is located in the wonderful corner of nature, at ashore of the beautiful lake takes part international country music festival "Visagino country". This year, in 21st–22nd of August Visaginas will become the capital of country music.
"Visagino country" is one of the largest festivals of such music, which has won respect and spreads the name of Lithuania abroad. Every year over 100 performers appear on the stage from more than 25 countries of the world. The world-famous country music stars also performed on this stage. Having seized the hearts of listeners they have themselves become the fans of the festival ready to come back here any time.
Apart from the concerts in the stadium, many other traditional events take place such as the concerts of the stars of the festival in the biggest cities of Lithuania, the projects "Country Gospels" in Visaginas church, the final concerts of the children and youth music project "Country Hopes" the picture exhibitions of photo-masters and children "Country Moments" and "Drawing the Festival", the colourful motorized parade of fans of country, projects of the oldest dances in the world – "Line Dance", the improvised nights "Jam Session" and others.
More information of the festival: www.visaginocountry.lt