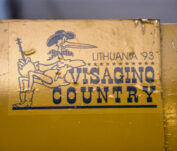 30 YEARS AGO…
2023.04.24
A while ago on social media channels we have asked our audience to share with us photo and video materials from earlier festivals from their archives.

We were so grateful when we have received a photo album from the third Visaginas Country festival, which took place in 1993. Elena Čekienė, the mother of the festival, shared that the photos evoked many beautiful emotions and sentiments, and some of them made her laugh.

The author of these photos is Carsten Stolzenbach from Germany. He shared his story with us:

A group of Germans, according to the study programs, went to Kaunas for two months, after hearing about the festival, decided to come to Visaginas. He said that all available accommodation for the days of the festival had already been taken by others, so they stayed informally in a tent camp right next to the stadium where the festival was held.

Please share old photos or video materials with us in case you have any in your archives. E-mail address info@visaginocountry.lt.