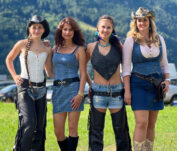 ABOUT "VISAGINO COUNTRY 2023"
2023.04.24
Life is better with country music!
Celebrating its impressive 30th edition, "Visagino country" festival gathers a large group of country music artists from various countries under its hospitable roof. Global country music stars go stage, and after capturing the hearts of listeners, they themselves become fans of the festival, ready to return here again at any time.
Country music of various genres will be played on the stage of the anniversary festival, bands and performers will shine: Bad Brooks (Norway), "Western Girls" (Czech Republic), "Jody Kailola Band" (The Netherlands), "Highway 40" (Sweden), "Baylou Sisters" (Australia), "Diamonds & Wiskey" (US), Doug Adkins and The Passengers" (US/Latvia/Lithuania), "Baltasis Kiras" (Lithuania), "Jonis" (Lithuania), Virgis Stakėnas (Lithuania), "Country Blues Session Band" (Lithuania).
In addition to the evening concerts, visitors to the festival can enjoy a variety of entertainment and free events, including line dances, children and youth concerts, exhibitions, a motorized parade, attractions for country fans, a trade fair and many others.
"Visagino country" festival is a celebration not only for country music fans, but also for those who value live music and exciting performances. Live music is played here for two days and nights, providing pleasant community and fun, old friends meet, new acquaintances are made, and romantic feelings are born here.
Buy tickets in advance. The prices go up as the festival approaches!
Tickets are distributed by www.bilietai.lt
See you on August 18 and 19 at the anniversary "Visagino country 2023" festival!