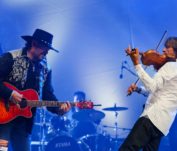 THANK YOU VISAGINO COUNTRY 2017!
2017.09.12
Another great Visagino Country festival has come to pass. We wish to thank all of you – lovers of live country music for this wonderful time among beautiful forest at the lake of Visaginas. We have heard some new and unique performers, we have seen some familiar faces of the festival, we have met our old friends and we have made new ones. And if something was amiss this time, things will surely get better. Let's meet again next summer in Visaginas for the 25th anniversary!
Meanwhile there are some pictures in the gallery to remember those great moments of 2017.