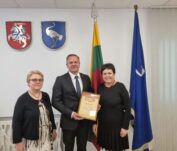 THE ANNIVERSARY 30th VISAGINO COUNTRY FESTIVAL WILL TAKE PLACE IN 2023
2022.09.18
Usually politicians say – the election is over, let the new election begin… We hope that they will not take offense but we have redone their saying and we say:

The festival is over.. let the 30th anniversary Visagino Country festival begin.

We already knew this, but on September 9th after a visit with the mayor of Visaginas Erlandas Galaguz our fact is even more true. After delivering a gratitude for the help in organizing the interantional Visagino country festival in 2022, we also started talking about the 30th festival that will
take place next year. The mayor confirmed that the festival is essential to the town, it spreads word about Visaginas not only in Lithuania, but all over the world. The festival organizers emphasized that the festival would be nothing without its sponsors. The mayor made a promise that during the
budget negotiations for 2023, sponsorship for the festival will be included. What numbers will be negotiated, neither the mayor nor anyone else can say today, the economical, financial and political situation is too complicated at the moment. But the most important thing about this
discussion is that the municipality of the town of Visaginas remains a sponsor of the festival.
After our talk with the mayor we also visited the director of the municipality administration Virginijus Andrius Bukauskas to extend our gratitude and discuss household questions that need to
be solved by next year when the jubilee festival will take place. The director of administration promised to help out.
Dear festival attendees, please mark this date on your calendars in capitals – AUGUST 18-19, 2023 – it's the date for the 30th festival. We promise to introduce you to the artists of the jubilee festival soon and soon the sale of tickets will start.

Follow the information on our social media and our website.