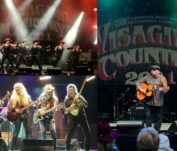 Let's meet at Visagino Country 2022!
2022.07.22
During almost three decades of the festivals life we strive to introduce the listeners to diverse genre of country music. We always like having established country artists on the festival stage, but we love opening the scene for young artists. Let's talk about what we have to offer the listeners this year.
This year the homeland of country music USA will be represented by a couple of artists. One of them Liane Edwards, currently residing in France, will be accompanied by the French band "The Dust Raisers". Liane has already performed at the festival with a different band. She enjoyed her time at Visagino country so much, that after returning home she immediately contacted us requesting an invitation for next year.
Denny Kensy is a well known musician in the USA as well as in Europe. He is one of the busiest and hard working country artists and his performances reflect that. Wheather a solo, trio or a five part performance Denny and his band "Cedar Creek" put on more than 200 shows each year. We invite you to come to the festival and see this amazing young man live.
Jake Lindholm is a young and talabted artist and songwriter from Sweden. His voice that sounds like a mix between Johnny Cash and Jason Mraz conects country, folk and pop into a unique, modern sound. Jake always tries to reach every listener. To do that he writes songs with meaningul stories. And he is very good at it.
Norwegian country music is represented by a young up and coming artist Arthur Stulien. Arthurs star was ignited by his performance ath the Norwegian Idol television show in 2016 and 2020. His music and performance impessed the entire country. Arthur and his band started recording his debut album with 10 original songs.
Ramblin' Boot's a young band of young people from the Netherlands. The band impresses the listeners with their music, style and expression on scene. Ramblin' Boots is the most popular and successful country music band in Europe.
This year Germany is represented by Old Johny's Crew, the band was established in 2013. What makes the band unique is the variety of instruments they use and the switching of instruments between the band members, the vocal are also split between the three singers.
Even though the majority of the performers at the festival are foreigners we could never forget to invite Lithuanian bands. You will be able to enjoy performances by the country father Virgis Stakėnas, Midnight Special, Elektra Band and the Jukija Ritčik Trio.
People come to the festival not only for the music but for the entertainment as well. This year we willrevive the tradicional motorized parade for the performers and guests. It's time to find a retro vehicle, register by email info@visaginocountry.lt and get ready for the parade on August 19th at 5p.m.
This year, to commemorate the 100th anniversary of diplomatic relations between the U.S. and Lithuania, a special festival t-shirt will be produced. A U.S. embassy tent will be raised at the festival where you will be able to find cowboy games , a photo booth that will help you commemorate your visit to the festival.
The traditional fair will last the entire two days of the festival where craftsmen and restaurants will offer you their goods.
The organizers ensure that everyone will find something that they like at the festival. Themost important thing is a good mood an willingness to participate, everything else will fall into place.
We remind that you can buy tickets online at www.bilietai.lt See you at Visagino Country 2022!