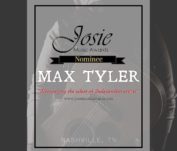 MAX TYLER
2018.06.02
We are so happy for Max Tyler and want to share the good news with you!
Max Tyler has got two nominations in USA this year:
Texas Sounds 2018, International Country Music Awards
Josie Music Awards
We look forward to meeting Max Tyler in Visaginas on August 25.
More biography and other facts on artists who will come to the Anniversary 25th Annual International Country Music Festival VISAGINO COUNTRY 2018 can be found under
Artists section on our page.